Slash Pine
Pinus elliottii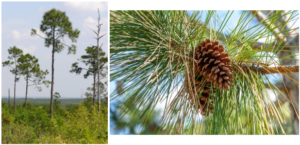 General Information:
Native to Florida, the slash pine can be found in central and southern areas, common along subtropical, coastal plains. It can grow up to 100 feet tall and produces pollen cones that mature in 2 years and then fall off the tree. This fast growing tree has simple, needle-like, evergreen leaves and can be found in clay, sand, and well-drained to occasionally wet soils. 
Medicinal Uses:
U

sed in traditional medicines internally for catarrh, chronic bowel inflammation, colds, gonorrhea, leucorrhea, rheumatism, urinary complaints, rheumatism, and ulcers, the turpentine has many medicinal uses. 
Did You Know:
The slash pine is super sensitive to pests and diseases and can self-prune its lower branches to allow more light to penetrate the plants underneath the tree.