Anne Rudloe Education Center

Rudloe was born Anne Eidemiller, December 24, 1947, in Troy, Ohio, and grew up in Hampton, Virginia. In 1971, she married writer and naturalist Jack Rudloe. She earned a BSc (Biology) at Mary Washington College in 1969. She received an MSc in Oceanography from Florida State University in 1972 for Significant associations of the motile epibenthos of the turtle-grass beds of St. Joseph Bay, Florida. She received a PhD in Marine Biology in 1978 working with William F. Hernkind at Florida State University for Some ecologically significant aspects of the behavior of the horseshoe crab Limulus polyphemus.  She trained at the United States Naval base in Panama City in underwater research and diving techniques in the "Scientists in the Sea" program and was the first woman to complete the program. She was an FSU adjunct professor of biological science. In 1980 she founded the Panacea Institute of Marine Science in Panacea, Florida. In 1990, she co-founded the Gulf Specimen Marine Laboratory, as a non-profit teaching laboratory of which she was the managing director. Rudloe also studied Zen Buddhism and received INGA (Dharma transmission) to teach as a JDPSN (Jido Pope Sanim) in the Kwan Um School of Zen. She then became the Abbot at the Cypress Tree Zen Center in Tallahassee, Florida. She was a frequent guest contributor for National Public Radio for both her conservation efforts and Zen Buddhism.
District names Anne Rudloe 2020 'River and Bay Champion'
HAVANA – The Governing Board for the Northwest Florida Water Management District today named Anne Rudloe the 2020 winner of the River and Bay Champion award.
The award is given posthumously to Rudloe, a long-time scientist, author, educator, and conservationist who co-founded Gulf Specimen Marine Laboratories, Inc., in Panacea. Jack Rudloe and sons Sky and Cypress and their wives and children accepted the award.
The award is presented annually to recognize individuals who make significant contributions toward the restoration and protection of the river and bays in northwest Florida.
"Anne Rudloe's passion for conservation and education throughout her career earned her national recognition," said George Roberts, the Chairman of the District's Governing Board. "But her biggest impact may be found in the thousands and thousands of children who learned about marine biology from touring the Marine Lab she founded in Panacea. No doubt, there will be scientists of tomorrow who discovered their own passion for learning thanks to Anne Rudloe's work."
Born in Ohio and raised in Virginia, Rudloe landed in northwest Florida as a graduate student at Florida State University where she earned her master's degree in Oceanography in 1972 followed by a PhD in Marine Biology in 1978.
In 1980, Rudloe founded the Panacea Institute of Marine Science and she and her husband, Jack, founded Gulf Specimen Marine Laboratories, Inc., in 1990 as a non-profit teaching laboratory. It is believed more than a quarter-million school-age children have toured the Marine Lab where they were introduced to the creatures that inhabit the bays in northwest Florida.
Rudloe authored five books, including "Priceless Florida," and had articles published in national publications as diverse as National Geographic and Sports Illustrated. Her work to help conserve wetlands in the Big Bend area of Florida led to her winning the National Wetlands Award for Education and Research by the Environmental Law Institute in 2014.
Her contributions as a scientist, educator, author, and conservationist led to the formation of the Anne Rudloe Environmental Education Center where her work will inspire others to become champions for the protection of the rivers and bays across northwest Florida and beyond.
"My family and I are deeply honored to accept this award on behalf of our wife and mother. Anne dedicated her life to teaching the next generation about the importance of our ecosystems using our local bays and rivers as her classroom," Jack Rudloe said. "Through her teachings at the FSU Center for Professional Development and Gulf Specimen Marine Lab she provided a voice for our coastal areas and helped to grow Champions of the future. We are proud to continue her legacy through our work every day at Gulf Specimen Marine Laboratory in Panacea."
The Rudloe family was presented with a plaque and a "River and Bay Champion" bowl with a permanent nameplate memorializing Anne Rudloe's selection as the 2020 winner. The bowl will remain on display at the Northwest Florida Water Management District's headquarters.
Winners of the River and Bay Champion award:
2018: Senator Bill Montford
2019: Graham Lewis
2020: Anne Rudloe 
Team Building with Sea Life
Host your next event in our Anne Rudloe Marine Science Center!
We invite you to host your next  team building exercise/retreat at Gulf Specimen Aquarium for a one-of-a-kind experience! The visit will start with a tour of our facility where you and your staff can get up close and personal with the different marine species we have on-site including picking up many small sea creatures and feeding sharks, fish and stingrays. Lunch can be catered by one of our local restaurants and served in our classroom or your team can book reservations at the Seineyard at Rock Landing within walking distance (open Thurs, Fri, Sat, and Sunday)  where you can dine overlooking beautiful Dickerson Bay. When it's time to get down to business, you'll be able to use our new onsite classroom which is equipped with a podium, big screen TV (with HDMI hook ups), tables, chairs and wifi. Other equipment and supplies are available as well upon request. We can accommodate up to 30 people in our classroom. We look forward to working with you to design an experience that meets your needs.
Government organizations and nonprofits are invited to enjoy our classroom to host meetings at no cost. Please call (850) 984-5297 or email: [email protected] to schedule your meeting.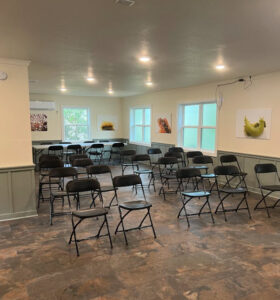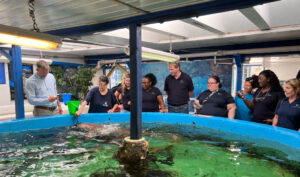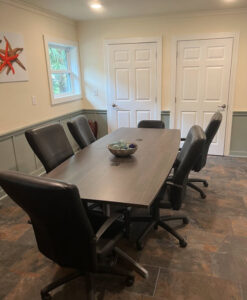 Thanks to a grant from Nancy and Gene Phipps and the Tallahassee Phipps Foundation we acquired six lots immediately adjacent to our facility, which will double the size of our footprint and give us room to grow for years to come. This is something that we've wanted for over forty years. The Phipps family helped found and support Gulf Specimen when it was most fragile in the early 1960s, for which we are forever grateful.
As part of the Hurricane Michael recovery program Volunteer Florida awarded Gulf Specimen a $485,000 grant to build a 2,000 square foot classroom and parking lot on the new property. This will enable us to expand our existing programs like bringing Joel Sartore of National Geographic, world famous author of "PhotoArk" and the late Jim Fowler, star of Wild Kingdom which drew record crowds to our "Sharks and Chablis" fundraisers. Currently, we need to raise an additional $40, 000 to make up the rest of construction costs. All contributions will be directly used to build and equip the classrooms as well as install a new parking lot that will accommodate more visitors and school buses.