Guided Tours
Our guided tours are a popular educational experience from small families, group activity outings to larger homeschool groups. All tours are led by a tour leader who has been extensively trained. The tour leader identifies animals and plants, describes their natural history, explains habitat requirements and discusses human impacts on coastal natural resources. Tours are suitable for all ages from seniors to young children that are curious about the wonders of the Gulf.
---
Option 1:

Guided Aquarium Tour

:
Per Person/Adult or Child – $9.50 Minimum Group Charge – $114.00 (If your group is less than 12 people)
Duration: ~1 Hour
A tour guide will join your group and give an in-depth tour of the aquarium, explaining the biology of the animals and answering any questions you may have. Enjoy a special, one-on-one private feeding of our sharks, stingrays, fish or octopus! 
Option 2: Aquarium and Living Dock Tour:
Per Person/Adult or Child – $12.50 Minimum Group Charge – $188.00 (If your group is less than 15 people)
Duration: ~2 Hours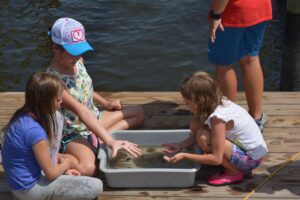 After a guided tour of the aquarium, the group will continue on outdoors to the Living Dock located in the estuarine waters of Dickerson Bay. Visit the famous Living Dock, featured in Jack Rudloe's book. There, the tour guide will demonstrate the fouling community species and intertidal zonation of barnacles and oysters. Participants get to experience hands on specimen collection from the dock to be identified and viewed up close before being released.
---
Option 3: Aquarium, Living Dock and Mars

h Tour

:
Per Person/Adult or Child – $16.50 Minimum Group Charge – $298.00 (If your group is less than 18 people)
Duration: ~3 Hours

Join us for a three hour aquarium, dock and marsh tour. Feed some sharks, learn to bait crab traps and experience specimen collection with us! Use a beam trawl and seine net for the first time to collect common estuarine specimens like blue crabs, grass shrimp, and sea nettles. Learn about important keystone species that live and depend on salt marshes and witness the different juvenile stages of our local game fish in the wild. Participants are strongly encouraged to help!
The group can either break for lunch before the marsh tour or have lunch after the trip at the discretion of the teachers and drivers.
---
From 1989 to the present we have hosted over 20,000 visitors annually and over 100 school groups from the southeast. The response is always enthusiastic. Please plan well in advance as our tours are very popular and available dates can be limited.
---
Recommendations for Tour Participants
• Teachers, parents and chaperones are expected to keep a watchful eye and assist with children at all times, which will ensure a positive field trip experience for all! Children need to stay with their group at all times.
• Please practice appropriate cell phone manners.
• Most public schools require 1 chaperone per 5 students at the elementary level, 1 chaperone per 10 students middle and high school level.
• Wear appropriate clothing for current weather conditions. Depending on the weather either wear warm clothing or for hot weather a hat or clothing to shield from the sun is recommended.
• Wear clothes you do not mind getting wet or dirty.
• If you participate in a marsh tour expect to get wet! Bring bathing suit and change of shoes Be advised your shoes will be wet and covered in sand after the marsh tour.
• Wear sunscreen as needed.
• Bug spray (Hands and forearms must be washed before placing these in touch tanks) Chemicals are bad for the animals.
• Bring money for the Gift Shop.