About Us
Gulf Specimen Marine Lab "Through The Years" 
---
District names Anne Rudloe 2020 'River and Bay Champion'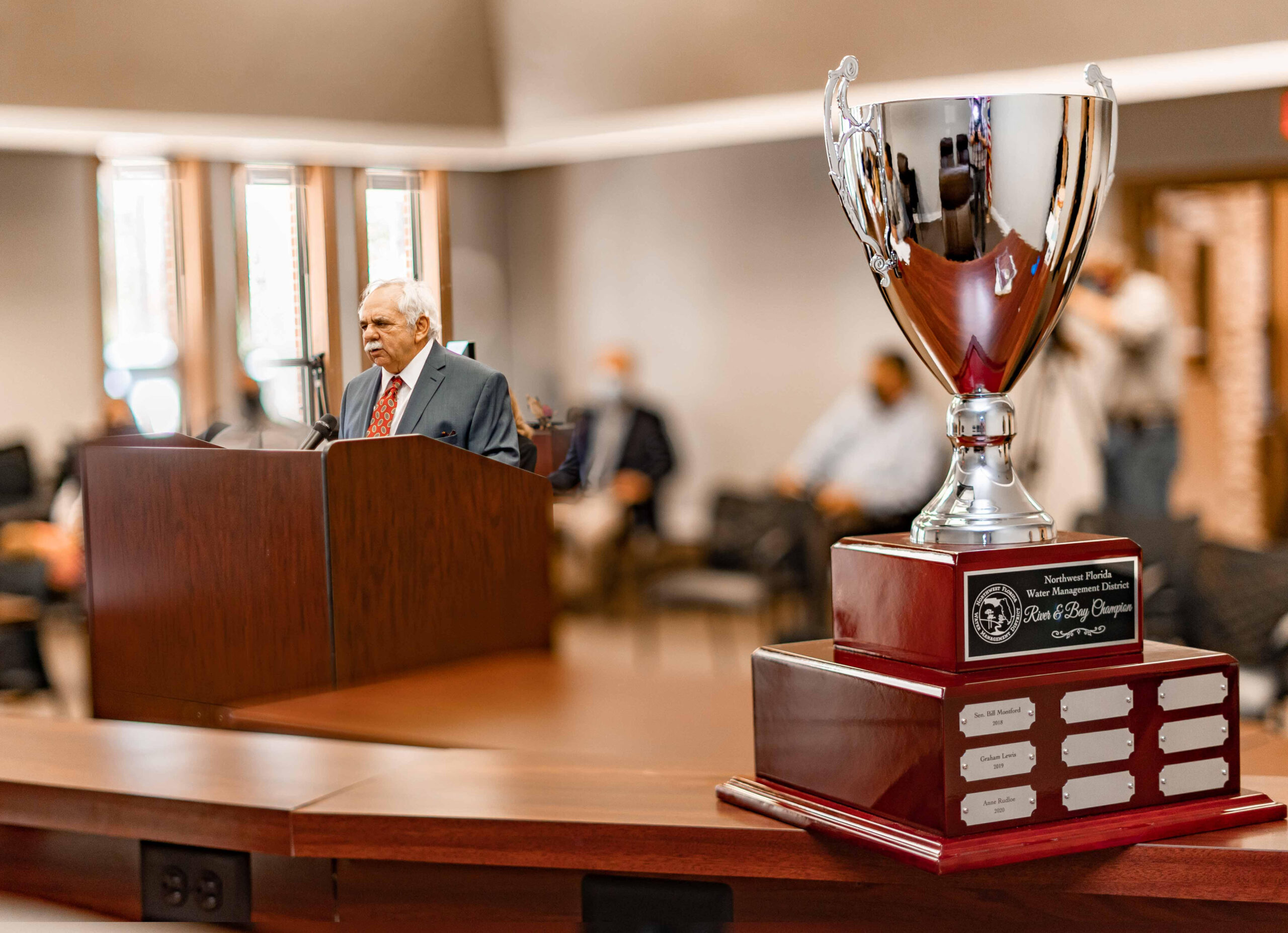 HAVANA – The Governing Board for the Northwest Florida Water Management District today named Anne Rudloe the 2020 winner of the River and Bay Champion award.
The award is given posthumously to Rudloe, a long-time scientist, author, educator, and conservationist who co-founded Gulf Specimen Marine Laboratories, Inc., in Panacea. Jack Rudloe and his son, Cypress and family, accepted the award.
The award is presented annually to recognize individuals who make significant contributions toward the restoration and protection of the river and bays in northwest Florida.
"Anne Rudloe's passion for conservation and education throughout her career earned her national recognition," said George Roberts, the Chairman of the District's Governing Board. "But her biggest impact may be found in the thousands and thousands of children who learned about marine biology from touring the Marine Lab she founded in Panacea. No doubt, there will be scientists of tomorrow who discovered their own passion for learning thanks to Anne Rudloe's work."
Born in Ohio and raised in Virginia, Rudloe landed in northwest Florida as a graduate student at Florida State University where she earned her master's degree in Oceanography in 1972 followed by a PhD in Marine Biology in 1978.
In 1980, Rudloe founded the Panacea Institute of Marine Science and she and her husband, Jack, founded Gulf Specimen Marine Laboratories, Inc., in 1990 as a non-profit teaching laboratory. It is believed more than a quarter-million school-age children have toured the Marine Lab where they were introduced to the creatures that inhabit the bays in northwest Florida.
Rudloe authored five books, including "Priceless Florida," and had articles published in national publications as diverse as National Geographic and Sports Illustrated. Her work to help conserve wetlands in the Big Bend area of Florida led to her winning the National Wetlands Award for Education and Research by the Environmental Law Institute in 2014.
Her contributions as a scientist, educator, author, and conservationist led to the formation of the Anne Rudloe Environmental Education Center where her work will inspire others to become champions for the protection of the rivers and bays across northwest Florida and beyond.
"My family and I are deeply honored to accept this award on behalf of our wife and mother. Anne dedicated her life to teaching the next generation about the importance of our ecosystems using our local bays and rivers as her classroom," Jack Rudloe said. "Through her teachings at the FSU Center for Professional Development and Gulf Specimen Marine Lab she provided a voice for our coastal areas and helped to grow Champions of the future. We are proud to continue her legacy through our work every day at Gulf Specimen Marine Laboratory in Panacea."
The Rudloe family was presented with a plaque and a "River and Bay Champion" bowl with a permanent nameplate memorializing Anne Rudloe's selection as the 2020 winner. The bowl will remain on display at the Northwest Florida Water Management District's headquarters.
Winners of the River and Bay Champion award:
2018: Senator Bill Montford
2019: Graham Lewis
2020: Anne Rudloe 
---
What We Do Here
Established in 1963, Gulf Specimen Marine Laboratory is an independent, nonprofit 501(c)3 organization that provides marine life to schools and research laboratories. We also study endangered species and conduct research in  mariculture, farming the edge of the sea. Today we are an integral part of numerous research programs all over the United States, Canada and Europe.
In 1995, due to continued strong growth in interest and attendance, GSML began a program to more strongly emphasize educational programs for regional schools, aquarium display and public visitation. (Read more about our history here.)
Our sea urchins and sponges have been sent to outer space and have been studied using some of the most sophisticated technology our society has to offer. Yet as modern day "hunter gatherers" we employ many of the simple harvesting techniques that Indians, who subsisted on this bountiful Panhandle coast, used thousands of years ago.
We strive to keep from damaging the fragile marine habitats, and actively oppose pollution and careless coastal development so that the sea will continue to bring forth. Please help us protect the earth which grows such strange and beautiful creatures. Support the preservation and protection of natural area and avoid over consumptive habits.
---
An Interactive Nature Center
Giving people an appreciation for the diversity of life in the sea and a desire to protect it is Gulf Specimen's primary mission. We do so by using our touch tanks, graphic exhibits and conducting field trips to provide a unique "hands-on" experience enabling students to touch, smell, and hear the odd and interesting creatures of the Gulf of Mexico, and develop an awareness and desire to protect the fragile life in the sea. To help maintain this facility, we supply schools and research laboratories with a wide variety of living marine life from the Gulf of Mexico. That service is essential to researchers all over the United States in many different fields of science, hence we have won state, national and international awards for our efforts.
While most aquariums feature large charismatic marine mammals and sharks, Gulf Specimen focuses on the fascinating world of the small. More than a hundred school groups and over 20,000 individuals visit our laboratory each year to view hundreds of species of local invertebrates, fish and algae as well as sharks and sea turtles from the Gulf of Mexico.
Our exhibits are never the same twice. The marine biological supply operation that supports the laboratory provides a constant flow of animals coming through the lab. A wide variety of invertebrates, fishes and algae are routinely collected by local fishermen and shipped to schools and research laboratories, hence no aquarium or standard marine laboratory with static exhibits can compete with it. At any given time, between one and two hundred species are present. Visitors are allowed to pick up and touch many of the animals, including starfish, sea pansies, sand dollars, whelks, clams, etc.
Whether pre-schoolers, high school, college students or casual visitors, all ask the same fundamental questions: "What is it? Where does it live? What does it eat? What eats it, and how does it reproduce?"
While visitors are touching and seeing, we use the opportunity to tell them of the problems facing Florida's ecosystems and how they can protect it. In addition to working with children and rehabilitating wounded or sick sea turtles, we work closely with biomedical institutions studying the ocean's vast storehouse for sources of potential new pharmaceuticals and have become an integral part of numerous research programs all over the United States, Canada and Europe.
After a visit to our lab, instead of stepping over or on much of the life when they're on the beach, people will notice. No longer will they stare puzzled at the "blob on the beach". They will understand the diversity of life in the sea and perhaps have a desire to protect it.
Mission Statement
Gulf Specimen Marine Laboratory's mission is to further through study, research, publication, teaching and public display the knowledge of marine biology; to promote protection of marine life and the marine environment; to collect, classify and disseminate marine biological specimens.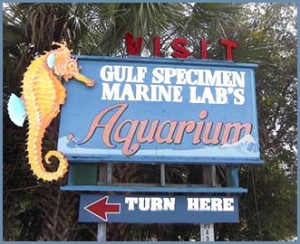 ---
Contact us
Gulf Specimen Marine Laboratories, Inc.
P.O. Box 237
222 Clark Drive
Panacea, Florida, 32346                                                                                                                Phone:(850)984-5297
E-mail: gspecimen@sprintmail.com
Facebook:  https://www.facebook.com/GulfSpecimenAquarium
Twitter: @gulfspecimen1                                                                                                    Instagram:#gulfspecimen