Gulf Specimen Board of Directors

David Frisby – Director (1998 to Present)
Education

  Master of Science in Educational Administration, Florida State University; Tallahassee, FL (1995); Postgraduate Study in Criminology, Florida State University; Tallahassee, FL (1974-1982); Postgraduate Study in Math/Math Education (1969-1971), University of Florida, Gainesville, FL; Bachelor's Degree in Mathematics with Philosophy Minor (1969), University of Florida, Gainesville, FL.     Community Engagement Chamber of Commerce  – City of Monticello (1991-2013); President (2003-04)Member Jefferson County Juvenile Justice Council (2004-08); 2005-08 Vice Chairman Monticello Kiwanis, (1995 – Present); Board Member 2000 Vice-Pres. 2003-04, President Elect 2004-05   

Personal Statement

  I retired from the position of Chief of Police for the City of Monticello in 2008, where I had served) as Chief 12 years. Prior to that, I worked 24 years and retired from the Tallahassee Police Department in 1996. My commitment to the Gulf Specimen Marine Lab is through a long time friendship with Jack and Anne Rudloe, founders of the lab and education center. I believe they do good work. I am a member of the Board of Directors because I believe in the kind of educational outreach they provide for families. We are three-generation visitors – our children and grandchildren visit the facility to touch and learn about marine life in the Gulf of Mexico."   
Andrea Carter – Director
Education  Bachelor's and Master's degrees in home economics education; PhD in educational administration, all degrees from Florida State University in Tallahassee.   Community Engagement Public school teacher, district administrator in K-12 curriculum and vocational education, and school principal at the elementary and high school levels in three Florida school districts.  Bi-lingual in Spanish and a resident of Wakulla County for 31 years.   Former member and past chairman of Tallahassee Community College Board of Trustees.     Personal Statement "I have personally known Jack and Anne Rudloe for over 30 years.  I can attest to their activism and reputation in our community.  They are widely known and respected, internationally, as dedicated and brilliant scientists.  Cypress Rudloe is continuing the important work of Gulf Specimen Marine Lab in preserving our unique North Florida marine environment by educating citizens about the important issues at stake in this critical time.  It is because of this educational mission that I am proud to be associated with the lab.  My experience in writing and managing grants in my professional career and overseeing public funds make me a diligent board member. This organization does good work and deserves public support.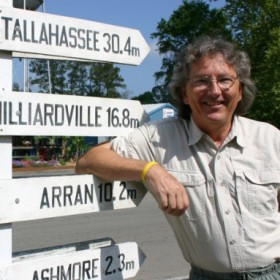 Robert Seidler – Director 
Education Five years of higher education in Biology, Sustainable Practices, and Communications. Certified Degreeless   Filmmaker, Entrepreneur, Presenter, & Dreamer Director of Fractal Adventures (http://fractaladventures.com/) Owner, Seidler Productions – a Full Service Media Production Company (1984 to Present   Community Engagement Conception and collaborations for numerous greenway and trail projects around Florida, including the Capitol City to the Sea trail system, St. Marks Trail, GF&A trail 1991 PBS series The Bicycle Innovations and Solutions 1999 PBS series Florida the Outdoor Adventure; 2002 PBS series Florida Takes to the Trails Restoration and operation of historic buildings in Sopchoppy, Florida Founding President: Florida Bicycle Association – Florida's premier cycling advocacy organization Co originator of Journeys from Home, a national traffic countermeasure and empowerment program for K-8 students to reduce traffic deaths among youths. Co conspirator in creation of the Sopchoppy Worm Gruntin' Festival (http://www.wormgruntinfestival.com/) – a cultural preservation initiative Collaborating partner in the creation of Tallahassee Community College Green Guide program Originator of the Green Economics presentation – Realizing and Recovering the Sustainable Green Dollar     Personal Statement "Place, human scale transportation and quality of life are the components of alive communities. Vision and hard work make this so. Framing progress is the only way toward healthy places and healthy people. We have DO our way into better communities and better ways. "I have seen the results of contact with nature at many destinations during my life. I have witnessed children's lightbulbs going on and burning bright because of this contact. At GSML and Aquarium this contact with nature and lightbulbs flashing on is a daily occurrence and needs support, as well as promotions so others will learn and share."  
Jack Rudloe – Founder, Gulf Specimen Marine Lab (1963 to Present), Managing Director (2011 to Present)            
Education Self-Taught Marine Biologist supported by Harvard's Museum of Comparative Zoology, the American Museum of Natural History, the Peabody Museum at Yale and the Smithsonian Institution   Community Engagement  Founder and Executive Director of Gulf Specimen Marine Lab (1963 to Present)National Wetlands Award Recipient with Anne Rudloe (2014), Environmental Law Institute Scientist   Marine Specimen Collector International Indian Ocean Expedition; New York Aquarium; National Cancer Institute   Author of Florida Natural Histoy The Sea Brings Forth (1968), The Living Dock (1977, 1988, 2003); The Erotic Ocean (1984 ), Time of the Turtle (1989), The Wilderness Coast (1988, 2004), Search for the Great Turtle Mother (2003); Shrimp – The Endless Quest for Gold with Anne Rudloe (2009)   Writer and Explorer: National Geographic Society, Smithsonian Magazine, Sports Illustrated, National History, and Audubon magazines.   Personal Statement "Gulf Specimen Marine Laboratory's mission is to further through study, research, publication, teaching and public display the knowledge of marine biology; to promote protection of marine life and the marine environment; to collect, classify and disseminate marine biological specimens."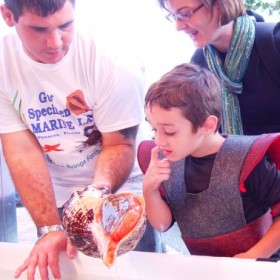 Cypress Rudloe – Executive Director (2011- Present)
Education   Associates Degree in Science, Florida State University (2009)                                                        

Community Engagement

 

Wakulla and Franklin County Public School Districts; U.S. Forest Service; U.S. Fish and Wildlife Service; Florida Fish and Wildlife Conservation Commission; Florida Park Service; Alligator Point Sea Turtle Patrol; VISIT FLORIDA; VISIT WAKULLA                                                                          

  

Personal Statement

  "The ocean and marine environments have interested me ever since I was a small child. I grew up collecting specimens for the aquarium with my parents, Anne and Jack Rudloe, co-founders of the aquarium. With their knowledge and experience the Gulf of Mexico was just an extension of my home right outside the door and down the living dock to the boat.   I felt more at home on the ocean than anywhere else. My parents proved excellent role models through their passion and commitment to marine life research, education, and conservation. I am a scuba diver and boat captain. Over the years I have gained knowledge about the marine life throughout the North Florida area, and the different types of ecosystems found in the oceans. I plan to expand the educational outreach of the aquarium to continue the mission to promote understanding and appreciation of nature – especially the Gulf coastal and marine ecosystems.