Scuppernong/Muscadine
Vitis rotundifolia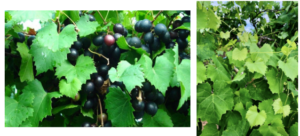 General Information:
This Florida native is a deciduous climbing vine found in dry upland forests, marshes, swamps, roadsides, and thickets in sandy and rocky soils. The muscadine grape ripens in September and October and is commonly used in wine-making because of their sweet flavor. The vine itself can reach lengths of over 90 feet long. 
Medicinal Uses:
Scuppernong grapes have been used to improve bowel movements and inhibit cancer cell growth. They have antioxidant, anti aging, cardioprotective, antihyperlipidemic, anti-atherogenic, anti-ischemic, anticancer, chemoprevention, and mild antihypertensive properties. 
Did You Know:
Muscadine grapes are very high in fiber and antioxidants. They have shown anticarcinogenic properties in the colon, lungs and liver of mice.