Annual Fundraisers
Sharks and Chablis Annual Fundraiser   
 
Saturday May 19th, 4 pm.-8 pm. Tickets $40
 

 

We feel incredibly privileged to have special guest Joel Sartore of National Geographic presenting a lecture and slideshow of his breath-taking PhotoArk. PhotoArk is an ongoing quest to photographically archive the biodiversity of species before they disappear. He has traveled the world capturing stunning photographs of all manner of creatures, from regal snow leopards to goofy naked mole rats
In addition to this special PhotoArk presentation, the silent auction is another exciting part of Sharks and Chablis. All items are generous donations from local businesses and craftsman. We are very grateful for these donations because the revenue from this event helps to support our efforts in conservation and education all year long.
Join us on Saturday May 20 from 4pm-7pm at the Aquarium: 222 Clark Dr, Panacea, FL .  We are looking forward to a wonderful event and we hope to see many old and new friends of Gulf Specimen Marine Lab.  We thank you so much for your support!
Please contact us at (850) 984-5297 if you are interested in helping us make this event a success and don't forget to mark your calendars!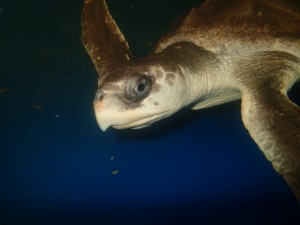 Planned improvements to the Sea Turtle Rescue and Rehabilitation program mean more help for sea turtles like "Little Girl" the Loggerhead,  released back into the wild by GSML in 2016 following a seven year stay delighting our visitors at Gulf Specimen.  Another goal is to be able to track released sea turtles in the near future, providing study and interest for Aquarium visitors and school groups.
Places to stay in Wakulla County

Sharks & Chablis 2017 Sponsors
PHIPPS FAMILY
THE FORTUNE GROUP      
TAYLOR-MacNAMARA FAMILY