History
Gulf Specimen Marine Laboratory was founded in 1963 to support marine research and education at universities by supplying live marine animals to academic scientists.Founder Jack Rudloe worked on shrimp boats, lending a hand in return for keeping species that were of no value to the fishermen. Commercial fishermen have remained important collaborators for many years.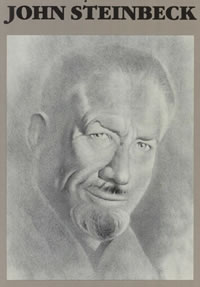 Jack Rudloe started GSML working from the back of his rusted out 1957 Plymouth station wagon. Equipped only with a plastic bucket and a dip net, and accompanied by his Airedale Linda, he combed the beaches and explored the waters of the Florida panhandle in search of specimens. The story is chronicled in his first book "The Sea Brings Forth."
Hidden Treasure: The Steinbeck-Rudloe Letters 2005 Wakulla news:Steinbeck's Letters to Panacea 1981
The author John Steinbeck, an avid amateur marine biologist, encouraged the creation of Gulf Specimen and assisted Mr. Rudloe with extensive support and advice. Steinbeck's support was based on the parallel of Jack Rudloe and Gulf Specimen to Steinbeck's friend and collaborator Ed Ricketts who operated Pacific Biological Laboratories in Monterey, California – (Doc and Western Biological in Steinbeck's classic novel Cannery Row). Steinbeck donated the original art from his and Rickett's book "Log of the Sea of Cortez" to Rudloe.
In addition, Rudloe received encouragement and support for his efforts from taxonomists at Harvard's Museum of Comparative Zoology, the American Museum of Natural History, the Peabody Museum at Yale and the Smithsonian Institution who felt that the poorly known fauna of the region should be made available to the scientific community.
Accreditation
We are members of the Southeastern Regional Museums Conferences.
Facilities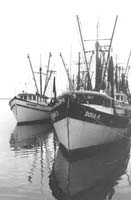 Gulf Specimen Marine Laboratory has 8,500 square feet of interior exhibition and program space, which houses approximately 30,000 gallons of seawater aquarium space as well as 1,000 square feet of pavilion space. It has easily accessible touch tanks and educational displays in three buildings, as well as a 300-foot dock and animal culture systems. These facilities house hundreds of species of local marine life used in educational and research programs in universities, aquariums and museums across the country.
The aquarium was opened to the public in 1990. From 1997-9, a major renovation of the facility was begun. In 2000 a 1,000 square foot pavilion was constructed for the use of large groups and an additional 800 square feet of new aquarium space was added. In 2001, a new exhibit, "Hidden Life: The Plankton of the Sea" was installed, the gift shop was redesigned and a new custom designed 26-foot supply vessel was launched. In 2002, a new display on seashells was installed and in 2003 an exhibit on sea turtle biology and conservation was added.